A Saiga .308-1 Pistol Grip Conversion

Project PSaiganov (AKA: "PSL-looking Saiga that wants to be a Dragunov")



First off, let's get the background stuff out of the way. Saiga is pronounced "Si'-ka". It is defined by The American Heritage® Dictionary of the English Language: Fourth Edition 2000, as "A medium-sized goat antelope (Saiga tatarica) of the plains of northern Eurasia, having a large stubby snout and in the male ridged yellowish horns". Brent Huffman at "Ultimate Ungulate" has a great write up and pix of this strange beast.







This is a Saiga 308-1 (Сайга-308-1 in Russian) imported by European American Armory (EAA) from the Izhmash factory in Russia. Izhmash originally produced AK-47's for the Russian Military, so they know what they are doing!

This is a 22" barrel, 7.62x51 (Nato or .308W) version based on the original AK-47 (Why a .308? Check out the "terminal ballistics page" from Fr. Frog's web site). The receiver is an RPK (light machine gun) unit to handle the heavier cartridge. They beefed up the internals, including a 3 lug bolt to keep the increased pressures in check. It has a sprung firing pin which is a major upgrade from the old AK's, a bolt hold-open device, and a Galil 90° gas port instead of the problematic 45° AK design (bullet shear).

The fit and finish are FAR superior to my old Maadi (SRPM), and any AK variant I've seen. But it is not perfect. In order to "sporterize" this weapon, they moved the trigger back 2" and that has a profound effect on the trigger pull. The trigger actually travels UP and back, making for a long travel and a poor release.





These are the current Saiga models (All are Semi-Automatic weapons, available in Camo or Blued finishes):

12 Gauge 19", 24", 26", 28"
20 Gauge 19", 24", 26", 28"
.410 Gauge 19", 24", 26", 28"
7.62x39 (M43) 20" (My next conversion project!)
5.56N (.223) 16", 20"
7.62x51 (.308W) 16", 22" - Wood or Synthetic stocks

Only the .308 suffers from the trigger pull problem.

With ATF regulations governing what you can do to remedy the trigger problem, we have to take a good look at 922(r) section (c) "Imported Parts":
(1) Frames, receivers, receiver castings, forgings or stampings (Yes - No US Available)
(2) Barrels (Yes - No US Available)
(3) Barrel extensions (NA, can add US with good parts count)
(4) Mounting Blocks (trunions) (Yes - No US Available)
(5) Muzzle attachment (NA, can add US with good parts count)
(6) Bolts (Yes - No US Available)
(7) Bolt Carriers (Yes - No US Available)
(8) Operating rods (NA [See US M-14])
(9) Gas pistons (Yes - US Available)
(10) Trigger housings (Yes - No US parts)
(11) Triggers (Yes - US Available, requires pistol grip mod)
(12) Hammers (Yes - US Available)
(13) Sears (.410 and .308 only)
(14) Disconnectors (Yes - US Available)
(15) Buttstocks (Yes - US Available)
(16) Pistol grips (NA - US Available, requires receiver plate mod)
(17) Forearms handguards (Yes - US Available, requires mod and different gas tube)
(18) Magazine bodies (Yes - US, conversion possible w/ good parts count)
(19) [Magazine] Followers (Yes - US Available, conversion possible w/ good parts count)
(20) [Magazine] Floorplates (Maybe - US Available, conversion possible w/ good parts count)

Total parts count, 16 for the .410 and .308, 15 for all others. with 6 US parts available (in Blue) that directly affect our parts count. Replacing 5 of these 6 make us 922(r) compliant on all BUT the .410 and .308 weapons. On these you will have to replace all 6. I personally recommend NOT using magazine parts in your parts count as this MAY be subject to "interpretation" of the law.

Now, this is just a guide because regulations are constantly changing and your state may be different. Be sure you check the regulations BEFORE you start hacking on your weapon! A BATFE Letter is HIGHLY encouraged!

Parts List:
US made Choate Dragunov stock (specifically chosen because the BATFE regards the integral pistol grip as a "sporter" or "Thumbhole" style stock)
Tapco US made stainless gas piston
Bulgarian Gas Tube (K-VAR) - filed base to fit snugly, Choate upper handguard fit perfectly
Red Star Arms 308 VEPR/Saiga Adjustable Trigger Group - PERFECT!
Blackjack Recoil Buffer - Smooth!

The stock contains 3 screws, the top and bottom are visible, but there is one hidden below the recoil spring catch. Place a towel over the grip portion of the stock and use a hammer to nudge the stock from the receiver.
The lower plate is attached by two rivets and two spot welds. Grind/drill them to remove the plate.
There is no pistol grip nut hole on these stocks, so you will have to cut your own, this is a good time to modify the receiver for a double arm trigger.

Now, as a Gunsmith/Armorer, I am pretty handy with tools. I have some specialty/power tools in the shop, but nothing major. This is being done IN MY LIVING ROOM, while watching the tube. It is not difficult... (YMMV/Insert Disclaimers Here)

Parts came in 4 days, ordered on-line using UPS 3-day select service.
Choate - Stock (SVD/Dragunov), 3/4" extension, screws and cheek rest. No cheek rest was sent (Out of stock?), but they didn't charge for it, it was just lined out on invoice w/no explanation. No front grips, but it came with front grip installation instructions?? E-mailing for a WTF revealed they were mailed separately. The stock is really nice and with the 3/4" spacer it is 1/4" too long for the wife (hold grip, butt plate should rest at the crease of the inside of your elbow when laid across your forearm), and 1/4" too short for me. Perfect! So much more natural feel when using the iron sights.

Tapco - 5 pc US parts kit with a G-Tech double hook trigger (not work modifying the receiver to install), disconnect, hammer (Too much work to modify), stainless gas piston and a pistol grip.

The rear of the receiver is NOT SQUARE and will not mate cleanly to the Choate Dragunov stock. With a framing square and a scribe, I marked off the receiver. After a few kisses on the bench sander, it was a perfect fit (Alt: Use mill file).

If you use the Choate Dragunov stock, the trigger guard is painless. Simply trim the screw whole off the rear of the guard, trim the opposite end to within 1/8" of the 90° bend. To install, turn it backwards (flat side towards the mag release) and the stock holds it tightly in place! No welding, drilling or rivets needed. I would not do this with a standard pistol grip as you won't have the same amount of clamping pressure.

Finished the hammer, trigger and trigger guard in about 2 hours, but the pistol grip nut took some time to make it just right. I use a 3/16" drill to make the square hole for the pistol grip nut. 6 holes were drilled and connected with a small file. It was pretty easy, but required a lot of test fitting. This was another hour and a half.

Tools to date: 7.2V cordless B&D drill, 1" cylindrical stone (to grind welds), 3/16" bit (to drill spot welds and make hole for the double hook trigger), 1" mill file (trim receiver and connect hole to trigger slot), bench sander (to square receiver and modify hammer) and a small file set. Satin black Rustoleum "Bare Metal" spray paint (No primer needed).

Function: Trigger release is SMOOOOTH and clean. So much better feel that I believe there will be an accuracy increase.

Looks: Sweet!!!! ...but judge for yourself: (Stage 1 - pistol grip conversion)





Looks pretty dorky with the stock wood up front, but that is for a later date. Heck, I can paint the wood with "Krinkle Coat" and it still be fine....

Stage 2 - Upper handguard/gas tube: (Lower handguard is resting in position, no Lower Handguard Retainer - yet)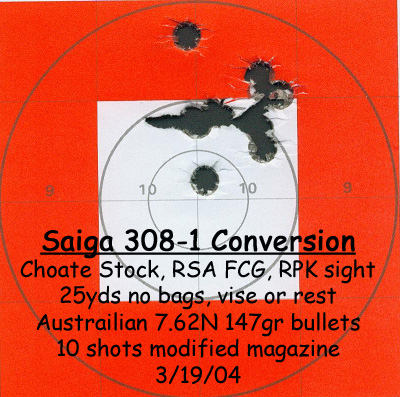 Oh yes, accuracy is improved!




Stage 3
- a REALLY slick (Patent Pending) safety feature (see pic), the bolt is shown locked open and the safety is fully engaged, locking the bolt in place!
- FBMG 20 Round Magazines!
- K-VAR Russian RPK 1,000 Meter Rear Sight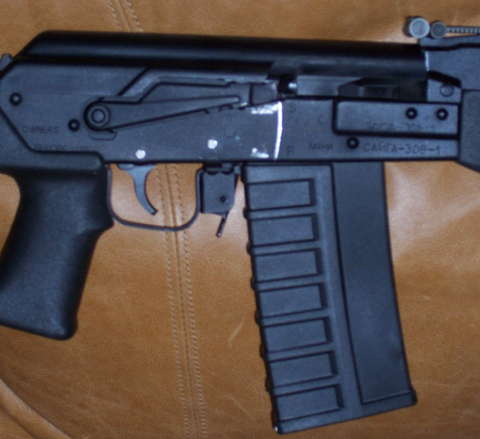 Stage 4
- Dinzag 5/8-24 threaded barrel (TAT)
- Tromix 5/8"-24 "Shark" Muzzle Brake
- Removed due to muzzle wash (I developed a blink!)
- Dinzag Front Site Base (modified)
- Dinzag 11° Crowning tool
- Dinzag Crush Washer
- Dinzag Custom RPK Front Hand Guard Retainer
- K-VAR Russian RPK Lower Hand Guard (Plum)
- Russian POSP 6x42 scope with sun shade, lighted reticule and 1000m Dragunov style range finder




The "persuader points" just make more
sense on a long barrel rifle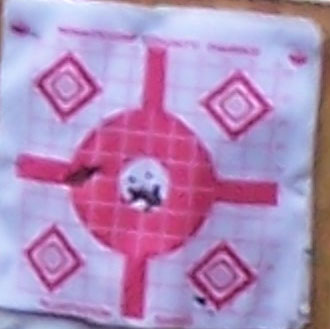 Another 25 yard target, 40 rounds of 147gr
South African Ammo: Accurate, but stinky!



...and now scoped.



Stage 5
- A "shall remain nameless" M16A1 rear aperture sight (No elevation) with M16A1 knob mounted on a 1911 rail top cover
- DPMS M16A2 windage knob to replace the flat M16A1 wheel - from Brownell's
- XS Sight Systems 24/7 Tritium Front Sight System - from Brownell's
- Removed the RPK Rear sight
- .056/.200 National Match Rear Aperture Sight
- OPS, INC R3E2C Muzzle Brake (no wash, no dust print!) - from Brownell's
- Leupold ScopeSmith Lens Shade ARD 40mm Anti-Reflection Device - Heavily modified to work with the Russian Scope.




How's that for a sight radius? Just needs a Lauer DuraCoat paint job!